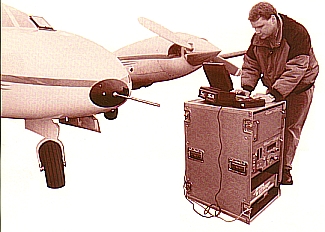 AIRWAVE chief Colin Minty readies leak-sniffing equipment for a flight.
A Calgary company has come up with a product capable of sniffing a pinhole leak in natural gas pipeline from an airplane patrolling up to 61 metres overhead.
"By speeding up inspection, we'll spot more pinhole leaks before they have time to grow into major pipeline ruptures," predicted Colin Minty, president of Airwave Electronics Ltd.
His 10-year-firm, which designs gas detection devices, inspects the 18,000-km pipeline system operated by Nova Corp. across Alberta.
Traditionally, maintenance crews walked or drove along pipelines while inspecting for leaks, using meters and occasionally dogs.
"Inspections that took days or weeks can now be done in hours," Minty said.
"This is the first and only system of its kind that I'm aware of," he said.
"With this technology, the cost-savings could be substantial," says Brian Gillis, a senior pipeline support and maintenance planner for Nova.
Airwave has converted a proven ground-based gas detection unit into an airborne system.
The lightweight electronic gear, featuring a probe mounted on the nose of an airplane, draws air from the zone around the pipeline into the detection unit.
"Our equipment's response time is three seconds, compared to 180 seconds for our competitors," he said.
Air sampling is reliable as long as winds remain under 25 km/hr, Minty said.
The data is fed into a computer, which can use satellite mapping to locate a leak within 100 metres.
"Three years ago, we were trying to use helicopters but they're expensive and their range is too limited," The Airwave chief said.
The environmental and safety importance of pipeline leak detection continues to increase, he said.
A recent pipeline explosion in Edison, N.J., levelled eight apartment buildings killing one person and injuring hundreds.
Two years ago, another rupture ripped 4.5 km of Nova pipeline out of the ground, though no one was injured in the spectacular blaze.
Earlier this year, Calgarians could see a glow in the sky when a pipeline belonging to Foothills Pipe Lines Ltd. erupted in southwestern Saskatchewan.
And per molecule, natural gas (pure methane) is a far more potent greenhouse gas (contributing to possible global warming) than carbon dioxide.