AE105 Portable Gas Calibrator
Introduction:
The model AE105 portable gas calibrator provides a continuous source of specific concentrations. The AE105 was designed to obtain repeatable gas output concentrations while providing a simple to operate instrument with minimal maintenance requirements. Small and light weight, the model AE105 is self contained in a rugged case making them ideal for field calibrations while maintaining instrumentation shop standards. The AE105 multi-range portable gas calibrators is designed to accommodate all permeation tubes manufactured by Airwave. Providing a very low temperature coefficient, the model AE105 eliminates the need for temperature controlling devices. Both versatile and economical instruments, the model AE105 is capable of performing most calibrations requirements.
Operational Principal:
The focal point of the AE105 operation is the Airwave permeation tube. The permeation tube is a pressurized cylinder containing pure calibration gas. A permeable membrane allows a control flow of gas to continuously escape from the tube which is measured in (nanograms/minute). The calibration gas mixes with air delivered by a flow controlled air pump, which is powered by two six volt sealed lead acid batteries. The combination of the controlled escape of gas and the air flow determine the final calibrated gas output concentration. The permeation tube is a low temperature dependant device with a useable range of 0-50 Celcius. A thermometer located on the face plate determines the internal temperature of the AE105.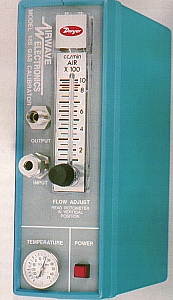 Features:
Adjustable Air Flow 100 – 1000 cc/min
Proven Technology
Simple Operation
Compact
Designed for Laboratory or Field use
No Temperature Controlling Devices
Customer Specified Range from 1ppm to 200ppm
Multi-Range Output
Replaceable Tubes
Multiple Gas Sources Available
Minimum Maintenance
Your trusted gas detection partner since 1984.
Suite 104, 1610 – 20th Street Didsbury, AB, Canada T0M 0W0