AE300 Electrochemical Gas Generator
Once again, advance technology and superior design make ACD's gas generators the most versatile and affordable instruments available for accurate calibrations standards of toxic gas sensors. Only this time, we've added some great new features like microprocessor based circuitry, digital display, selectable output, electronic flow control, temperature and altitude compensation, automatic purge and shut-down and longer battery life.
Like our previous line of instruments, the new model 300 is capable of generating gas electrochemically, either intermittently or continuously. Fast warm-up time allows the instrument to be turned off between remotely located sensors thus saving battery life and avoiding generation of unwanted gas.
When powered-up, the LCD identifies the generator with instrument and cell serial numbers. It reminds you of when the instrument was last calibrated, provides useful information such as remaining cell life and battery life, verifies the gas output, and allows you to change the concentration if necessary. It also provides you with scrubbed, ambient air for the purpose of "zero-ing" your sensor. At any time you may check the status of the generating cell, battery life, etc., or start the gas generation process. If no selection is made, the Model 300 will simply continue to run in the "air mode" and will shut itself off automatically after 30 minutes.
Best of all, the model 300 is extremely cost effective. Chlorine is guaranteed for 1000 hours at 1 ppm making the cost per calibration as much a 500 times less than alternative technologies.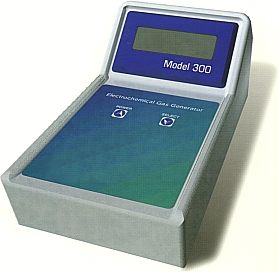 Features:
Will Calibrate any sensor

User selectable gas concentration output
Factory adjustable flow rate to match sensor requirements
Portable and lightweight
Easy to use

LCD Provides Essential Calibration Information

Gas concentration
Calibration date
Remaining battery life
Remaining cell life
Altitude setting

Gas is Generated … Not Stored

Toxic gas is only present when the instrument is on
The generation process completely stops when the instrument is off
Problem of gas 'shelf-life' is eliminated
No disposal problem
Safety in storage
Easy to ship by air

Available in Six Gasses

Bromine, Chlorine, Chlorine Dioxide, Hydrogen Cyanide, Hydrogen Sulfide, Hydrogen