AE-HP-G VHF
Pilot Controlled Lighting Controller
Permits pilots to turn on airfield lights utilizing their existing the aircraft VHF 118-137 MHZ band radio when flying to an airport or heliport.
Compliance
ICAO and FAA regulations and CAP437 (offshore helipads)
Specifications
Electrical Characteristics
Operating Voltage: 12VDC, 48VDC, 110VAC, 240VAC, etc
Control Capacity: Customized
Physical Characteristics
Body Material: Painted Metal Box (SS316, SS304 is optional)
Overall Size (mm): 400×300×200 (Standard, others optional)
Installation Size (mm): 360×260×θ10 (Standard, others optional)
Weight (kg): 5 (Standard, others optional)
Product Life Expectancy: 20 years
Environmental Factors
Ambient Temperature(℃): -55~70
Humidity: 0~95%
Wind Speed: 80m/s
Waterproof: IP65
Options Available
Solar System
Light Intensity Adjustment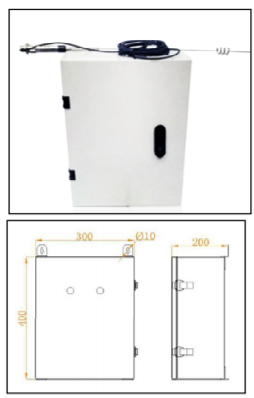 Features
Low maintenance costs
Protected from input transients, output overload, over-voltage, and over temperature conditions.
System may be set to respond to 3, 5 or 7 clicks (default setting: 3 clicks) to turn on the lights, after the expected working time (15 minutes as the factory setting), the lights will turn off automatically.
Adjustable activation duration (user programmable 5, 15, 30, 45 and 60 minutes) (default setting: 15 minutes).
Frequency of signal transmission: 137-174/400-470MHZ Frequency of signal reception: 118-136MHZ
Solar system (solar panel, battery) is optional for AH-HP/G-VHF
Your trusted gas detection partner since 1984.
Suite 104, 1610 – 20th Street Didsbury, AB, Canada T0M 0W0