AH-LS/E Solar Powered Airport Runway Light
Solar Powered Runway Light can be provided with power supply without power transmission cables by solar power, so it is suitable for those locations which are hard to lay the cable or lack of power supply.
Specifications
Mode: AH-LS/E
Standard: ICAO Annex 14
Light intensity: 15 cd
Working mode: Built-in photocell allows automatic illumination at night, defaulting to non-illuminating during the daylight.
Material: Base – Profession Marine Aluminum Alloy
Housing – PC
Flash rate: Steady-burning Mode
Light source: LED
Service life of LED: 100,000 hours
Operating voltage: DC6.4V, environmentally aware long-life recyclable batteries.
Overall Size(mm): Φ162 by 160
Installation Size(mm): Φ140 by M6
Weight: 1Kg
Emitting Color: White
Ambient Temperature: -55 °C to +70 °C
Wind load: 80m/s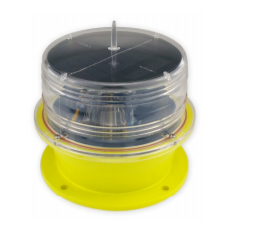 Benefits
PC material with good impact protection strength, thermal stability, high transmittance.
International advanced solar panel reaching at least 10 years service life.
Comprehensive protection in voltage short, over-voltage, floating Charge and temperature.
International-advanced cold and special LED with low power consumption, high brightness and service life of light source reaching 100,000 hours.
Strong corrosion resistance; rain, shock, and vibration protection. UV protected.
Clean, renewable, green and reliable energy source.
Dusk-to-dawn operation: Built-in photocell allows illumination automatically at night, defaulting to non-illuminating during daylight.
At least 50 hours of continuous operation without sunshine.
Recyclable batteries with the low environmental impact.
IP67 protection standard, full sealing structure.
Your trusted gas detection partner since 1984.
Suite 104, 1610 – 20th Street Didsbury, AB, Canada T0M 0W0