AE4001 Gas Monitoring System
Multi-Channel Gas Monitoring System
The Model 4001 System Controllers provide concentration display, alarm activation, and power supply functions for field mounted gas sensing devices. The system controller works in conjunction with any 4 – 20 mA Sensing Head for monitoring a wide variety of toxic and combustible gases.
The two user adjustable alarm levels for each channel permits you to set the activation points to conform with your particular application or local regulations. The front panel contains a large, highly visible, LED display as well as individual alarm indicators for each channel and level. You are given a comprehensive report on the gas monitoring and instrument status.
The system controller is housed in a rugged, weather-proof housing. These wall mountable enclosures are available in single or four channel sizes. The Model 4001 monitors up to four different sites or different gases from a central location. New gas sensing channels can be added to the system as your needs grow or require change.
The Airwave Sensing Heads provide fast, accurate, and reliable response to the gas of concern. In turn, the Model 4001 can be used for activating alarm annunciators or for controlling functions like ventialation based on the measured values. These systems are ideally suited for leak detection, environmental control, worker protection, or other industrial gas monitoring applications.
Sensor Temperature Compensation
Airwave incorporates temperature compensation at the sensor. By using compensation at the sensor, it's response is unaffected by ambient temperature changes and calibration can be conducted irregardless of temperature. This provides an accurate measurement of gas concentrations.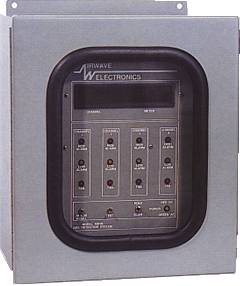 Features:
Monitors up to four locations and four different gasses simultaneously and continuously
High and low alarm levels for each channel
Digital Display and alarm indicators on the front panel
Modular design allows expansion
Weather resistant enclosure
Available for monitoring

Chlorine (Cl2)
Ammonia (NH3)
Oxygen (O2)
Carbon Monoxide (CO)
Combustible Gases (LEL)
Hydrogen Sulfide (H2S)
Sulfer Dioxide (SO2)
Nitrogen Dioxide (NO2)
Other gases available. Consult factory
Your trusted gas detection partner since 1984.
Suite 104, 1610 – 20th Street Didsbury, AB, Canada T0M 0W0