Introduction:
The AE2430/2440 HYFED hydrogen flame emission detector is a direct reading continuous ambient monitor that uses a flame photometric detector (FPD). The FPD provides fast response and is the most sensitive method for determining low concentrations of all sulfur or phosphorus/phosphine species in air. The AE2430/2440 is one in a series of versatile Sulfur/Phosphorus analyzers available in various configurations for the measurement of Total Sulfur, Phosphene, Hydrogen Sulfide, Sulfur Dioxide and Sulfates.
Operational Principal:
The model AE2430 operating principal is based on the chemiluminescence of sulfur/phosphorus species. All the sulfur/phosphorus containing molecules are ionized by a hydrogen flame. When the sulfur/phosphorus reverts to a lower energy state, the light emitted is passed through a narrow band pass filter and measured by a photomultiplier tube (PMT). The current output of the PMT is converted to a voltage by an electrometer amplifier which is used as the instrument output.
The AE2430/2440 operates for linear ranges: 0-50 ppb to 0-1000 ppb, 0-500 ppb and 0-1000 ppb. The AE2430/2440 uses a one or ten second time constant where most competitors are forced to use 2-3 minute time constants. The AE2430/2440 provide immediate response and is 99% efficient. Measurements in the lower range provide precision and resolution unmatched by any other instrument presently available.
Response Speed:
The model AE24302440 provides better information on a real-time basis than any other ambient sulfur/phosphorus analyzer available today. Accurate measurements require fast response and real-time integrity to have true averages; weather it be for collecting data from rapidly occurring episodes for environmental health purposes, or long term environmental level measurements for impact studies.
Safety:
If a flame out were to occur, the AE2430/2440 automatically stops the flow of hydrogen and, as a safe guard, a critical orifice is mounted in the hydrogen transport system to stop excessive leakage. If the power returns and there is sufficient hydrogen gas present, the AE2430/2440 will re-ignite and return to normal operation.
Stability of Zero and Span:
Careful attention to thermal electric temperature control of the burner block assembly and flow control devices results in zero and span stability that can remain within specifications for weeks to months. Precision temperature control of flow capillaries and critical orifices provide stable operating conditions to allow precision within a fraction of a part-per-billion. Jewelled control flow orifices with polished surfaces virtually eliminates the possibility of flow changes.
High Reliability Electronics:
The model AE2430/2440 utilizes current solid state electronics for years of trouble free operation and minimal down time. Solid state timers, optical isolated circuits and high quality amplifiers and associated circuitry are just a few examples of the state of the art features available with the AE2430/2440.
Selective Scrubbers:
Airwave manufactures scrubbers to remove H2S or SO2 to specifically measure the sulfur gas of concern. Airwaves patented scrubbers have a long service life without the need to heat the scrubber.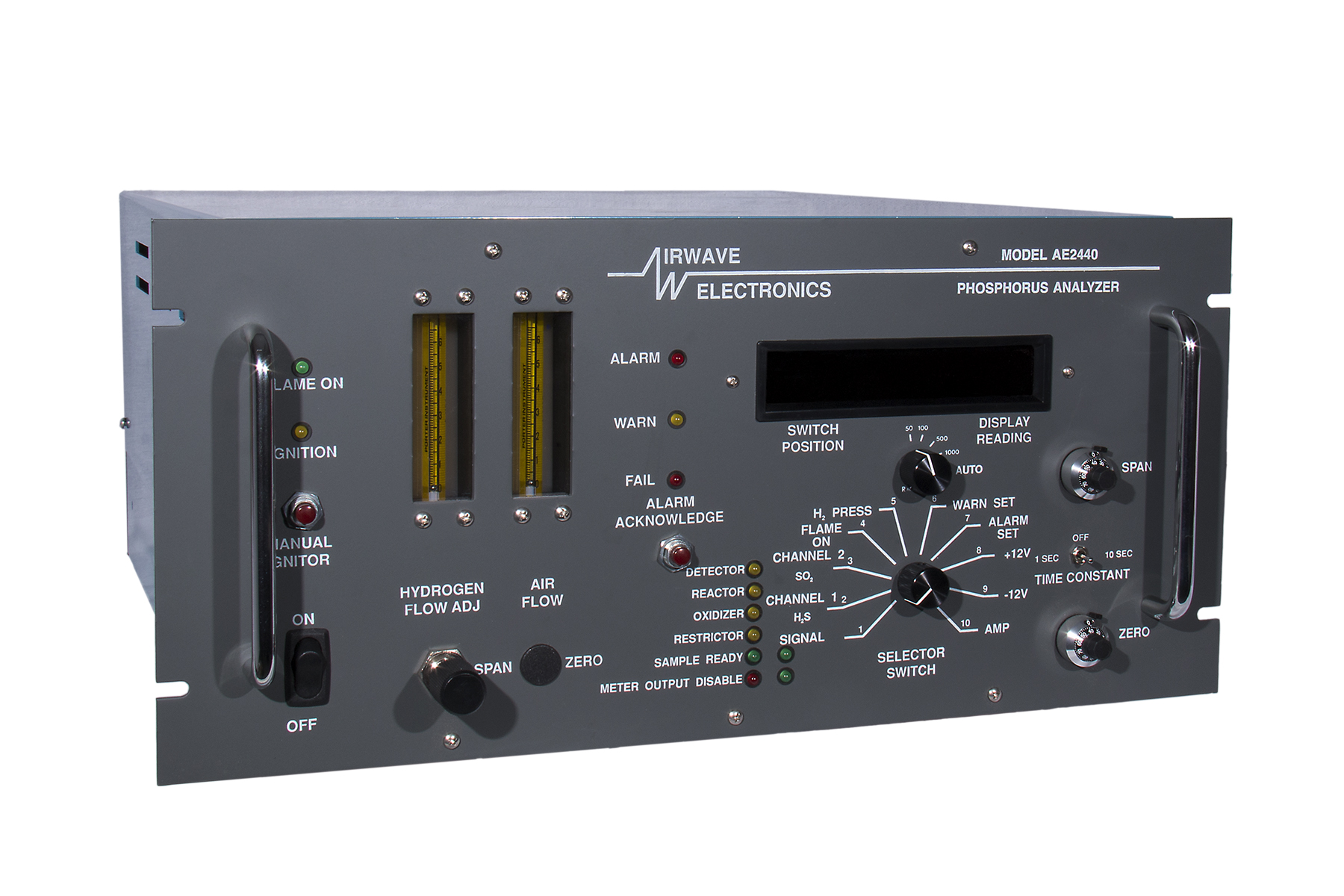 Features:
Low detection limit
Multiple ranges: 0-50 ppb to 0-1000 ppb
Proven technology
Multiple front panel diagnostics
Digital display
Easy to operate
Minimum maintenance
No wet chemistry
Fast response time
Linear output for H2S-SOx-TRS PH3
No airflow adjustments required
Solid state timing circuitry
Your trusted gas detection partner since 1984.
Suite 104, 1610 – 20th Street Didsbury, AB, Canada T0M 0W0