AE-SA-A Serial Solar Airfield Light
AE-SA-A Serial Solar Airfield Light is specially used on permanent airport/heliport where cable power is not convenient or temporary aerodrome.
Specifications
Mode: AE-SA-A
Standard: ICAO Annex 14 Vol. I (7th. Edition, July 2016), 
ICAO Annex 14 Volume ǁ Heliports 5.3
Light intensity:  ≥36cd(White, Red, Green)
Flash characteristics: Steady (Flashing mode is optional)
Light source: LED
Service life of LED: >100,000
Battery Type: Lithium ion battery
Battery Service Life: Average 5 years
Autonomy: 40hours (Highest intensity), longer is optional
Body Material: Aluminum Alloy
Base Material: Powder-coated Die-casting aluminum
Overall Size(mm): 250×250×320
Installation Size(mm): 200×200×M10
Weight: 5Kg
Product Life Expectancy: Average 10 years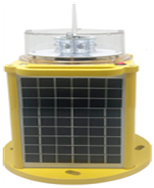 Specifications
Electrical
LED as light source saving power consumption and maintenance, 95%
less power than equivalent incandescent light
Physical
Integrated design, enabling a rugged and completely waterproof
seal capable of prolonged and deep immersion (IP68).
PC housing, UV resistance, shockproof and corrosion proof.
Powder coated die casting aluminum base
4-side mono crystalline silicon solar panel, conversion efficiency is better than poly crystalline silicon
Your trusted gas detection partner since 1984.
Suite 104, 1610 – 20th Street Didsbury, AB, Canada T0M 0W0